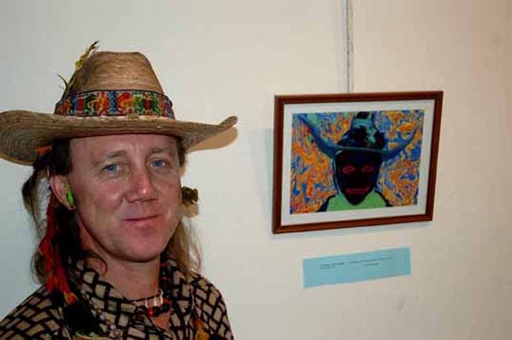 1999: Living one year in India and 4 months Nepal
-Helping Hands Contemporary Art gallery/ Kathmandu/Nepal.*
1998: Back in India for 1 year, Nepal 4 months...then over land back to Belgium via Pakistan (1 month,) Iran (one month), to Turkey (Kurdistan and Istanbul) 10 days.
-I participated in an art-ecological project, which was initiated by Catherine Josten from Tucson/Arizona/USA
1997: Living in India 6 months and Thailand a few months.
-I Participated in a virtual and synchronic group exhibition since 1997 in San Francisco/ California/USA, whereby all participating artists' works are being projected on a huge wall in Columbus street. Until this very day the projections go on and can also be seen at: www.globalcollage.com
- Eros and Thanatos themed exhibition in the Bagore-Ki-Haveli (government run) art Gallery/Udaipur/Rajasthan/ India.
-Eros and Thanatos show at gallery 506/ Kolkata in West Bengal/India.
- Acquisition of 1 work for the Tama Art University art gallery and one that was auctioned / Osaka/ Japan.
-'Art Blast' collective exhibition at Oxford bookshop in Kolkata/WB/India.*
-I participate in 'Live action painting' at 'Montmartre Art Village' during the Annual Book Fair/Kolkata/WB/ India.*
-Nekkershal/ Mechelen/ Belgium.*
1996: Living in India for 6 months and 3 in Thailand, combined with Malaysia.
-Tribal Connection show + performance at Gallery La Mère/ Kolkatta/WB/ India.
- Extension of the 'Tribal Connection' show at Alliance Française/ Kolkatta/ WB/ India.
- Presentation of my 'Tribal Connection' themed show at Doordarshan (National TV) Kolkatta/WB/ India.
1995: Back to Brazil and India and Portugal.
- Museo de Arte Moderna at the Universidade Federal de Mato Grosso/ Cuiabá/Mato Grosso/ Brazil.*
1994: Painting three months in Sri Lanka after which I proceeded to Madras in India. I Remain for 6 months in Calcutta/India living in a Brahmin's house and visit the State of Orissa and frequent her tribal fishermen. Then I traveled onward to Nepal.
-Gallery 706/ Colombo/ Sri Lanka.
-Center Art Gallery Kolkatta/West-Bengal/ India.
1993: I visit Malaysia and Thailand again.
-Centre International:"500 Años de Resistencia Indígena " /Brussels/ Belgium.*
-Galerie L'Oeuil /Brussels/ Belgium.*
1992: I went back to Portugal and back to Brazil with journeys to Paraguay, and Bolivia. I met with the Maká Indians and an Italian anthropologist in San Lorenzo. Then travelling to Asia for the first time: Thailand and Malaysia.
- Published with 'Stoppen met Roken', short story and poems by De Vleermuis NV. uitgeverij/ Netherlands.
- Porto Seguro, Belo Horizonte/ Sao Paulo/ Brazil: at various cultural centres during 3 years in a traveling exhibition.*
-Galerij ABCD/ Antwerp/ Belgium.
1991: Second visit again the Bororos and Xavantes Indians in Brazil.
In Belgium I establish a foundation called "S.O.S. Amazon Indians" and organize a water project for 2 Xavante villages.
-Restorante Xadrêz / Brasilía/ Brazil with help from the Vlaamse Gemeenschap representative Marcos Roelands.
- Galeria NY Arte, contest 'Paint Cuiabá city' (I ended up finalist) / Cuiabá/Mato Grosso/ Brazil.
1990:
- Werkhuizen/Jeugd en Stad/ Brussels/ Belgium.*
- Photo exhibit on the Xavante people at the V.U.B. (Flemish Free University) Brussels/ Belgium.
- Published with short story 'Bloedbroeders' at Brakke Hond literature quarterly/ Brussels/ Belgium.
1989:Iorganised an auction of comics originals and art, in Brussels for the benefit of three tribes in Brazil. After that, I visited Brazil and get adopted into the Xavante nation through a blood pact and earn myself the name of Wérè'è (many persons in one person). I also spent ten days with their enemies: the Bororo Indians and the Karajà.
1988:
-Salon des Refusés at the Arsenal de Charroi/ Brussels/ Belgium.*
-Salon des Refusés at Salle Allende at ULB/ Brussels in Belgium.
1987:Iwent to Tunisia to visit Sidi Bou Saïd where Matisse had lived.
1985: Discovering Portugal. I fall in love with the Portuguese language, the country and its people.
1984: First exhibit in Brussels; 2 works got stolen and I never saw them back.
Back to Scandinavia.
1983: Hitchhiking through Holland, Germany and Scandinavia. I become an active member of BANAI, a non-profit org. for the North American indigenous rights. I meet with the natives of Bella Coola reservation and from Mount Currie of British Columbia.
1981: Hitchhiking for three months through Spain as portrait artist. I continued to Morocco where I ended up 7 hrs in custody in Casablanca, arrested by the police for making portraits without a permit.
My works are in private collection in: Holland, Taiwan, USA, Norway, Belgium, France, India, Nepal, UK, Thailand, Brazil, Switzerland, Bolivia, California/ USA, at the Tom of Finland Foundation.
(*= group exhibitions)