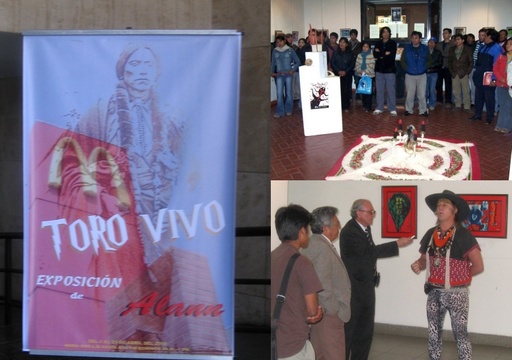 Udaipur, Rajasthan/India April 1997 Introduction by Ambalal Damami (Art critic and artist in Udaipur Rajasthan India) The Belgian artist Alann de Vuyst is a brilliant example from modernist viewpoint being alienated from his first love: 'The Brazilian natives' (he was adopted trough a blood pact with Xavante chief in 1989),whose colors left a deep mark on his mind, later to be translated on his canvases.
His creations are a panorama of international art. Ranging from the innocent tribal sensitivity to heartless ruggedness of urban sophistication. In all his works he combines the analysis of major issues, with a feel for suffering and stark realities of life. Alann, a long way voyager trough European, North African, South American and Asian cultures, possesses a vast and deep understanding of human psyche.
He is both emotive and provocative a 'cultural bastard'. His concept of creation, trough phallic imagery, comes from the age-old simple logic of Indian root. The world is a cycle of creation and destruction. The artist continues his warfare against oppression, Jewish-Christian morality and sexual taboos. Alann's works present a technique ' bold and beautiful forming into a style that is individual and unique.
The profusely used orange, white and magenta, texture with powerful, swirls as an important device forms the character of his picture, through which he displays his skill and conveys the message more effectively.
Skeptical as he is, a child of curiosity, he registers his unquenched thirst for all that is hidden to him. He creates his own myth and fairy tales, thus unfolds himself as a fine mixture of Alice in Wonderland and Don Quichotte. His dripping device, textural wharf and wood, a symbolic confluence of chaos and confusion, enables him in providing the viewer with cathartic experience the result is revelation!
QUOTES BY INDIAN ART CRITICS:
'Many a times when one comes across an artist, one wonders: what is more interesting: The man or his works? Alann De Vuyst is such an archetype artist...'
-RAJEN BALI, painter and art critic for 'THE NEW ASIAN AGE' Calcutta, India, May 1996.
'Agile lines and the strong brush strokes testify the artist´s talent, capacity and the source of his inspiration.'
-Rita Datta, 'ECONOMIC TIMES`, April 10 1996 Calcutta, India
'Alann is provocative and thus interesting. He wants to paint shocking images to disturb people in their overall complacency... He is a man with a dewesternising view..In strong vibrant colours, he creates and art for life, and not an art for art statement. And he decided that his art shall live.'
-Madhuri, THE STATESMAN, May 27 Calcutta, India