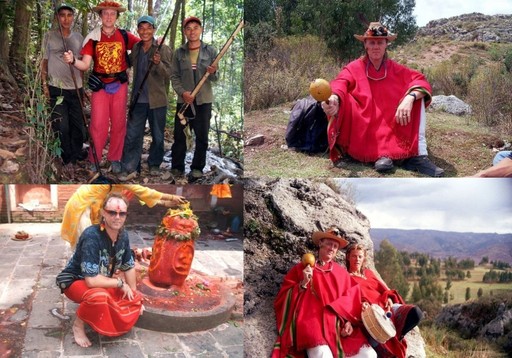 Alann De Vuyst was born in Dirk Marten's* city of Aalst, in the province of Oost-Vlaanderen, Belgium. At the tender age of nine he studied art on Sundays with his father and elder sister at the Academie van Schone Kunsten in the same city for four years. A twenty kilometers roundtrip on his small bicycle, over hilly Flanders through snow and rain and occasional sunshine. At thirteen he was the youngest painter at an artist fair in the city of Zottegem.
At fifteen he finally decided to take classes in advertising arts at the renowned St-Lukas Instituut in Brussels, for another six years. In 1982, he set out to work for a brief spell at the famous advertising agency Lintas SSC&B worldwide/Brussels, for which he was selected and awarded a second prize in a contest of designing a poster for the agency's 50 years of existence. The reward was a six months term of work at their office in Brussels.
Alann's passion and drive for wandering was only at it´s beginning. Knowing he had three months before he had to be on the job, he set off on a hitching holiday to Spain. It was in the city of Murcia where he started his first pencil drawn portraits of locals and backpackers for a mere 300 pesetas. Eventually he did the job for more lucrative means in the tourist city Torremolinos in the Costa del Sol.
The next plan was Morocco where he experienced his first culture shock which would alter his vision of the world tremendously, never to become the same person after. After running out of money he tried his luck in portraying locals in the city of Agadir. Alas, the authorities thought differently and saw him as an illegal worker and deported him straight away.
Back in Belgium he couldn't adapt to a nine to five job with little say over his creations. Six months later, he tried his luck at illustrations, cartoons and comics, some of which were awarded at cartoon contests such as the famous Knokke-Heist International Cartoon festival in 1987. The same year he got nominated for painting and cartoons by the Olivier Strelli award. 1988 was the year in which he became involved with the 'Salon des Refusés', named after the Salon de Refusés founded by Napoleon III in the 19th century. It was a non-profit organization officially protesting against the elitist approach of the annual 'La Jeune peinture belge' contest and against the monopolized Belgian art world in general. They held exhibitions with a hundred participants in old beer breweries or abandoned military barracks without jurying the participants. Pros and amateurs exhibited side by side.
In 1989 he became the vice-president of the organization for one year after the group was dissolved. Alann was censored the very same year by a commercial gallery (Arcade Mauve) for two political portraits of Margareth Thatcher and king Hassan II of Morocco, judged too dangerous in times when Salman Rushdie got a fatwa on his head. Bored and disappointed with the Belgian art scene, Alann finally departs for Brazil, where he gets adopted by a indigenous nation: the fierce Shavante, who live in Mato Grosso. He painted the people with vegetable colours (urucum), which the Indians use on their bodies that earned them the name of redskins.
After his stay with the Shavante he was often on radio shows and once in well-known talk shows on TV for interviews and collected money for a development project, which was successfully executed in 1991. The project was about building a water supply system for two different Shavante villages. He's currently writing a book on those days and times he stayed with them.
Anyway the path for further adventurous travels is a part of his life. Even though he doesn't dismiss Belgium for a show his focus lies now in the countries he discovers step by step where he interprets what he sees and imagines.
*After the German Guthenberg he was the second European to introduce book printing
His on-line writings can be read at www.scribd.com/Alann